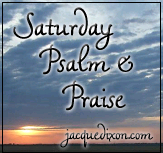 Hey all :)
So I found this over at
Miss Jocelyn's
and thought I would give it a try :)
Last night I was having my devotions and I was reading in Psalms. You know how you can read the same verses over and over again but as soon as you read them like the 101st time THAT is when they really just bowl you over? I had one of those moments last night!
I was reading in Psalm 145 and these are some verses that really just spoke to me:
Psalm 145:
8 The LORD is gracious and full of compassion,
Slow to anger and great in mercy.
9 The LORD is good to all,
And His tender mercies are over all His works.
14 The LORD upholds all who fall,
And raises up all who are bowed down.
15 The eyes of all look expectantly to You,
And You give them their food in due season.
16 You open Your hand
And satisfy the desire of every living thing.
17 The LORD is righteous in all His ways,
Gracious in all His works.
18 The LORD is near to all who call upon Him,
To all who call upon Him in truth.
19 He will fulfill the desire of those who fear Him;
He also will hear their cry and save them.
20 The LORD preserves all who love Him,
But all the wicked He will destroy.
21 My mouth shall speak the praise of the LORD,
And all flesh shall bless His holy name
Forever and ever.
As I was reading that I was just struck by what an awesome God I serve! He is so wonderful to me and wow yeah I am just speechless! God is so Good!
So that is my 1st Psalm and Praise :)